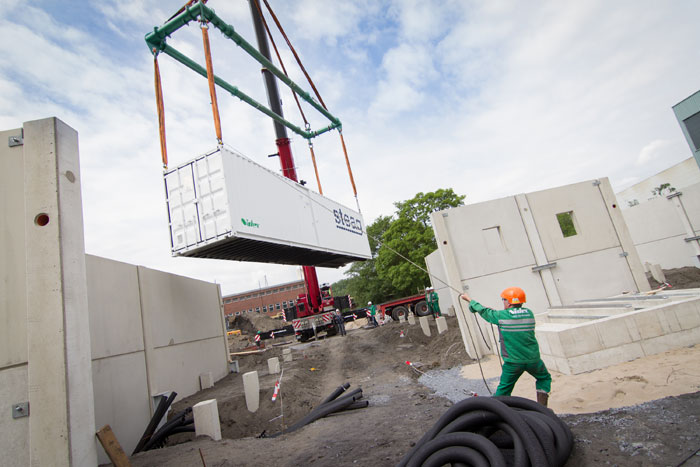 The leading industrial solutions provider to supply multiple systems of energy storage for a total capacity of 90 MW
Yesterday, Nidec ASI began construction of a 90-MW project for German utility STEAG in Lünen, one of six sites to be installed in North-Rhine-Westphalia and Saarland, two key regions of Germany.
Germany has heavily invested in renewable energy sources during the last decade and now seeks to develop alternative technologies for stabilization of the power grid.
This system, based on Nidec ASI's energy conversion solutions, will use batteries supplied by LG Chem to store electrical energy, which the utility giant will use to provide auxiliary services to the TSO.
This major contract, awarded in November, confirms Nidec ASI's growing expertise in the field. The multinational company-a pioneer in the supply of Power Conversion Systems (PCS) for commercial- and utility-scale energy storage plants-has grown to become one of the market's leading players, offering Engineering, Procurement and Construction (EPC) services for battery energy storage systems (BESS), based on its proprietary inverters and smart microgrid technology solutions to clients across the globe.
Nidec ASI's notable and increasing track record includes similar projects completed for the French Islands-including La Réunion, Corsica, and French Guiana-as well as for Italy's Terna and Enel Green Power overseas, with the construction of a smart micro grid in Chile.
Nidec ASI was renamed as such in 2012 when Nidec, a Japanese multinational corporation listed on the Japanese Stock Exchange, acquired Ansaldo Sistemi Industriali (ASI) SpA, an Italian multinational that can trace its roots back to 1853. The company is a provider of customized solutions for a range of industrial applications worldwide. Operating from offices in Italy, North America, France, Germany, Romania, the United Arab Emirates, Southeast Asia, Russia, China and Japan, its markets include petrochemical, energy, steel, marine, and industrial automation. Nidec ASI specializes in heavy-duty applications requiring high power and performance, including inverter and converter power electronics, industrial process control and automation, motors and generators.
As of 2015, Nidec ASI has a portfolio of orders worth about 400 million Euro, with an installed base on more than four continents.
Read article's on the web: ADVFN Deutschland | ADVFN France | PR Newswire UK